Last week Charlie Brooker was recalling for me the moment he learned Jodie Foster would direct an episode of Black Mirror, his inspired series of one-off dramas about the ways our gadgets are colonising the idea of "human". Brooker had written a script for the new series in which a neurotic single mother uses technology to spy on her young daughter and keep her safe from the world. The Netflix people suggested they tried the script out on the two-time Oscar-winning actor.
Brooker has had considerable global success with Black Mirror but still, the thought of working with Foster, "an actual icon", made him come over, he says, "all British and starstruck". He turned to his co-showrunner for the series, Annabel Jones. "We were like: 'You're kidding, right? You are going to try Jodie bloody Foster? Yeah right, of course you are.'"
The script was given to Jodie bloody Foster, though, and she came back immediately and said she wanted to do it. Brooker had a Skype chat with her in which it became clear that as a mother and a daughter, and as someone steeped in issues around privacy, she had a strong feel for all the script's themes. "And then also," Brooker suggests, "on a practical level the film involved dealing with child actors, which I guess Jodie Foster probably knows more about than anyone alive."
Through the course of the film-making – the shoot was in Toronto, the editing in London – Brooker says Foster could not have been more engaged or engaging. And for his own part, he says, as long as he repressed the thoughts that went: "Christ, she was in Taxi Driver, she was in The Accused, she was in The Silence of the Lambs…" he was fine. Otherwise, obviously: "You got a bit of vertigo."
I met Foster to talk about her film earlier this year when she was over in London working with Brooker on the edit of "Arkangel" [her episode of Black Mirror], and experienced just a bit of that vertigo. It would be fair to say that the actor, now 55, is not the most enthusiastic of interviewees. Having been first put in front of cameras aged three, and subsequently having suffered well-documented traumas with stalkers, Foster has long been wary of talking about herself beyond her work. She is determinedly friendly, but radiates the same intense and guarded intelligence you know from her most famous roles, as well as a profound awareness of being quoted out of context.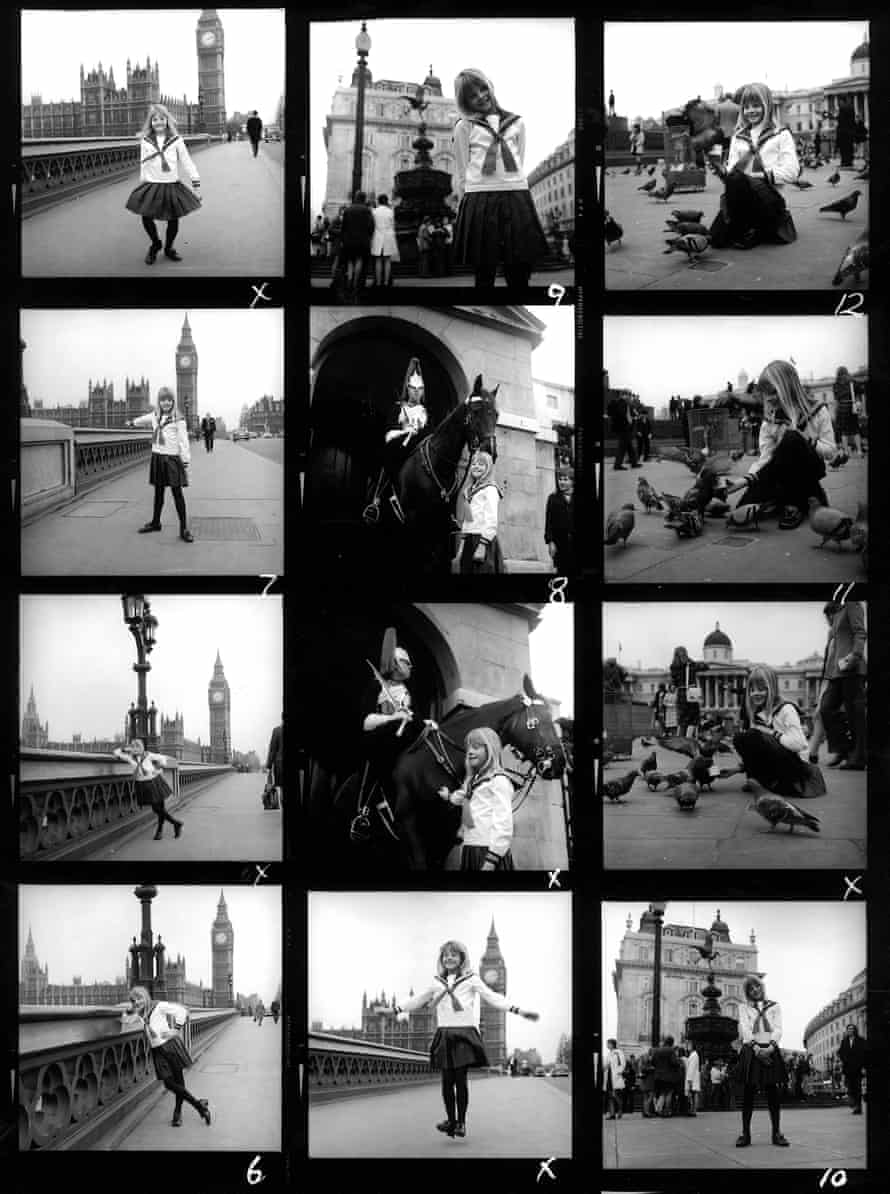 A mention of Trump at one point in our conversation brings a curt: "You'll understand I never discuss politics, I leave that to the experts." Stray a little too far into personal territory and you immediately feel like a tabloid hack with a back pocket stuffed full of grubby tenners. One of the reasons Foster has taken a break from acting for a while – a decision she announced in an uncharacteristically frank speech at the 2013 Golden Globes in which she came out both as single and as a director (she assumed everyone already knew she was gay) – was, she says, to avoid any of this. She still loves the idea of acting, but she finds all that goes with it, the junkets and the photo shoots and the interviews, "absolutely soul crushing".
With that idea hanging in the air we sit in a hotel room sipping Earl Grey tea and talk first about how the Black Mirror offer came about. Foster was at lunch with her agent, and "moaning as ever about the feature film industry," she says. She was and is nostalgic for the three-act beginning and middle and end of 90-minute drama. "Much as I love this renaissance of episodic series," she says, "characters are not in service of a single story, and I miss that."
As she grumbled along these lines, her agent stopped her – "I think I have something you should see" – and told her about Black Mirror, Brooker's series of standalone "indie" films. Foster went away and binged on the first two series. ("Friends had told me about it a million times, but I hadn't tuned in," she says.) And then she read the script. "I was like: 'How did you know?'"
Part of that affinity was the fact that having "made movies for some 50 years" Foster was deeply aware of how few stories out there "are told by women, through women's eyes, and with a female director". (She has made no formal comment about the Weinstein revelations, except to observe tangentially that in her early career "for 15 or 20 years, every single script
I read, the motivation for the female character was that they had been raped or abused as a child… Is that the only thing [men] think about us that feels deep or something?")
The other thing she liked about Brooker's script was its believably human drama. "What was interesting," she says, "is that though all of the shows are about technology, none of the shows are really about technology at all. All of them are about relationships and the emotional damage we all carry, which is highlighted by the Klieg light of technology."
In her notes to Brooker, Foster had quite a lot of thoughts about the dynamic between mother and daughter. He went away and rewrote parts. She wanted the feel of the film to be more blue collar and lived in, to depict a slightly bruised small-town American world.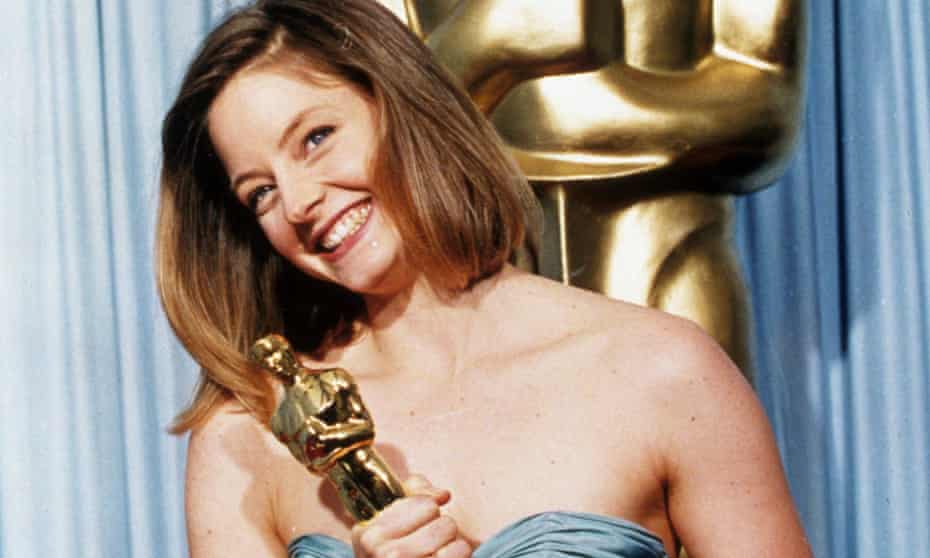 I guess Foster made those changes because she wanted to bring the story closer to home. She agrees to a point. "This show goes back to mothers and daughters," she says, "and it brings you back to your own mother. I have been thinking about her in the edit suite this week."
Foster and her mother, Brandy, had a famously intense relationship. Brandy was divorced from Foster's father, Lucius, a former lieutenant colonel in the US air force, before Jodie, the youngest of four, was born. In order to help support the family Brandy put her infant daughter forward for casting not long after she could walk. Foster was the breadwinner before she went to school and the pair of them were inseparable in her early movie career. Some years ago now, Foster began to lose her mother to dementia. Again at her Golden Globes speech, she addressed her directly: "Mom, I know you're inside those blue eyes somewhere and that there are so many things that you won't understand tonight," she said. "But this is the only important one to take in: I love you, I love you, I love you. And I hope that if I say this three times, it will magically and perfectly enter into your soul. You're a great mom. Please take that with you when you're finally OK to go."
With those words in mind it is hard, when you watch Foster's unsettling Black Mirror episode, not to think a lot of that relationship was running through her head when she made it. Foster insists it is not directly autobiographical – it was Brooker's script, after all – but does allow that, "as a director I have always wanted every movie I have made to be in some way the story of my life. Otherwise how am I supposed to commit to it?"
She suggests Brooker's parable has a universal theme, about the fears any parent has about raising children, and the understanding that at some point you have to let them go. "In a weird way our children have become our favourite form of entertainment," she says, talking more widely of the trend for "helicopter parenting". "We live vicariously through them and rediscover the world through them. There is something wonderful and healthy about that – and something also suffocating and sad."
Does she recognise that dichotomy from her childhood? "My mother used to say she was always scared and she didn't know why," she says. "She said she would wake up in the middle of the night thinking: 'How am I going to take care of my children?' It wasn't a given. It was very important to her to give that opportunity to me, and yet there was always that contrary sense of, 'You'll never take care of yourself without me!'"
N
one of us can choose our childhoods. I wonder how Foster feels about hers now. "I am very grateful for it," she says. "Whether you are raised in monastery in China or a farm in Nebraska everyone has their singular childhood. I travelled, and I got to be taken seriously, I got to learn a craft I loved."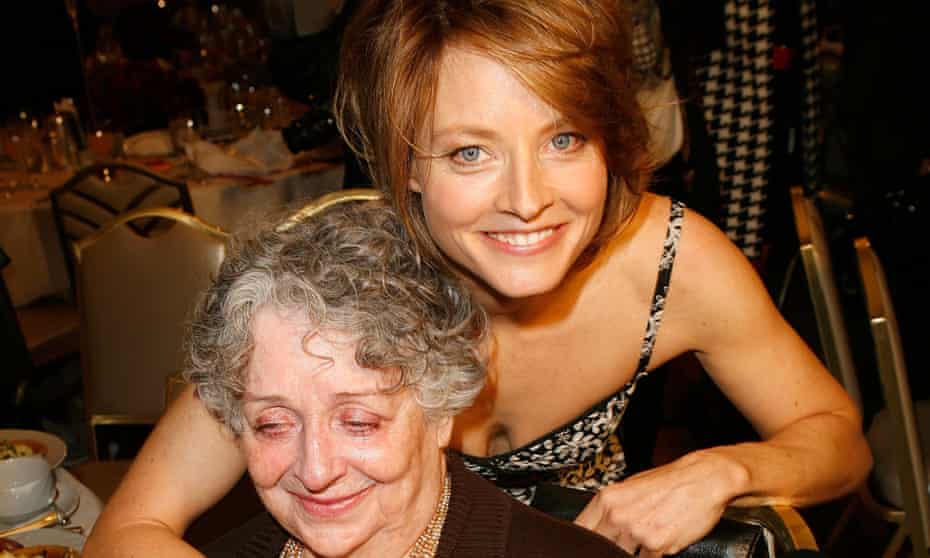 Her mother must have been immensely proud. "She was, but she was a part of it. We were a team that made movies together. We went to little towns together and stayed at the Ramada Inn and made dinners on hotplates. It was like a travelling roadshow."
In some ways Foster has always seemed like a slightly reluctant movie star. She argues that's not really the case: films were all she ever wanted to do; it was the fame part that hit her in her teens after Freaky Friday, Bugsy Malone and particularly Taxi Driver, that made her uncomfortable. She read Malcolm Gladwell's Outliers recently, she says, and the notion of successful people being those individuals who are lucky and committed enough to get in 10,000 hours of practice in a chosen field first, resonated with her. "When you are 18 and you have already made 30 movies you know quite a lot about storytelling…"
One way of reading her subsequent career has been as an effort to change that insistent "we" she talks about of her mother, to a definitive "I". In her 20s, she rejected acting for a while to study English literature at Yale, and graduated with honours (after befriending the subject of her dissertation, Toni Morrison). When she went back to films she began a run of extraordinary, drawn-out success with The Accused, and then The Silence of the Lambs. In 1991, the year she won her second Oscar for the latter, she started her own production company and directed her first film, Little Man Tate. There was a sense in which she could put her talent to anything.
She doesn't feel the need to do that any more. "I think what happens when you get a bit older is that you are very clear about what you want to do and what you don't want to do," she says. "When I was young, I thought: 'Yeah, I can do cartoons! I can do musicals!'" The pressure of being a prodigy, of living up to her mother's expectations, was hard to shake.
In recent years she decided the best way to fulfil that might be behind the camera rather than in front of it. Was she a frustrated director all the time?
She says it was more just how it turned out. "Sadly I never worked out how to be prolific as a director and have a career as an actor, and also raise children and run a company. It was the directing that always went on the back burner. But now is the time."
It is easier for her to commit to the total immersion that directing requires, she suggests, now that her two sons, aged 19 and 16, are more independent. She raised her boys with her former partner, Cydney Bernard (they met on the set of Sommersby in 1993 and separated in 2008). In April 2014, Foster married actor and photographer Alexandra Hedison.
She has no interest in revealing how her marriage has affected her working life, but you have the sense, talking to her, that it has coincided with a greater self-confidence, that she is a bit less tough on herself than she once was. When she stepped back from acting, she says she felt a new freedom.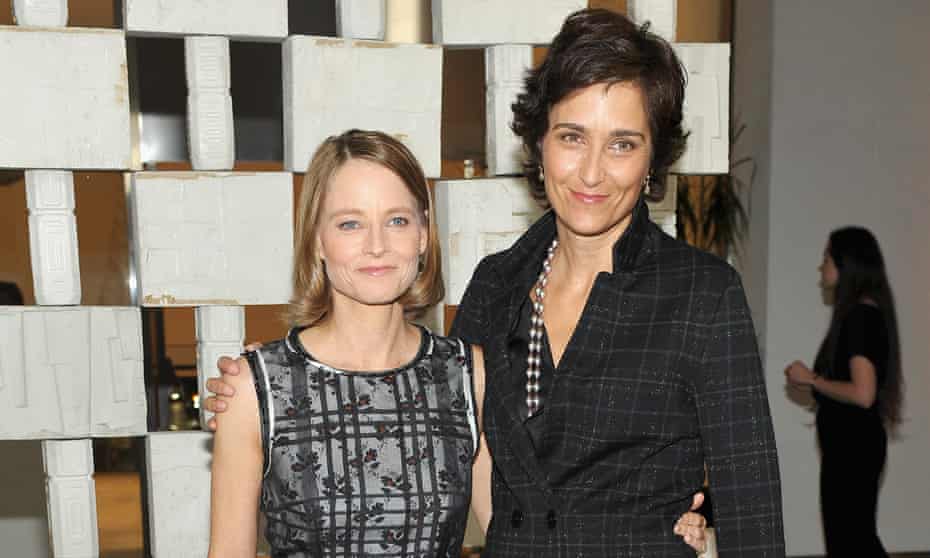 "I didn't want to be the most successful director, or the highest paid, I just wanted to be somewhat of an auteur," she says. "If that meant I made two movies my entire life and I loved them, then I was fine with that."
Though she has recently accepted her first acting role for five years (as the lead in the thriller Hotel Artemis), she is doing so very much on her own terms, out of curiosity rather than necessity.
"I think the thing that has made my work different than a lot of actors is that I don't have an actor's personality and I never did," she says. "I wasn't born with that. Would I have made a better lawyer? Possibly. My personality is made for other things."
We talk a little more about children fulfilling the ambitions of their parents, the way tennis and music prodigies feel about their childhoods.
She insists that movies are never "just tennis". "Through movies I learned about astronomy, the First World War. It is continually walking into other worlds and getting to the bones of them. What other life can offer that?"
What once was chosen for her, now is very much her choice. "Some directors love cranes and CGI and spectacle, but that is not why I make movies," she says. "I feel like I make movies because there are things I have to say in order to figure out who I am or my place in the world, or for me to evolve as a person. But until you get to the end of your movie you don't always realise why you were obsessed with that particular thing."
And then she heads back to the editing suite to once again make doubly sure.
Black Mirror season 4 launches on Netflix 29 December